News and events
A bold remit to improve prosperity, quality of life and increase business activity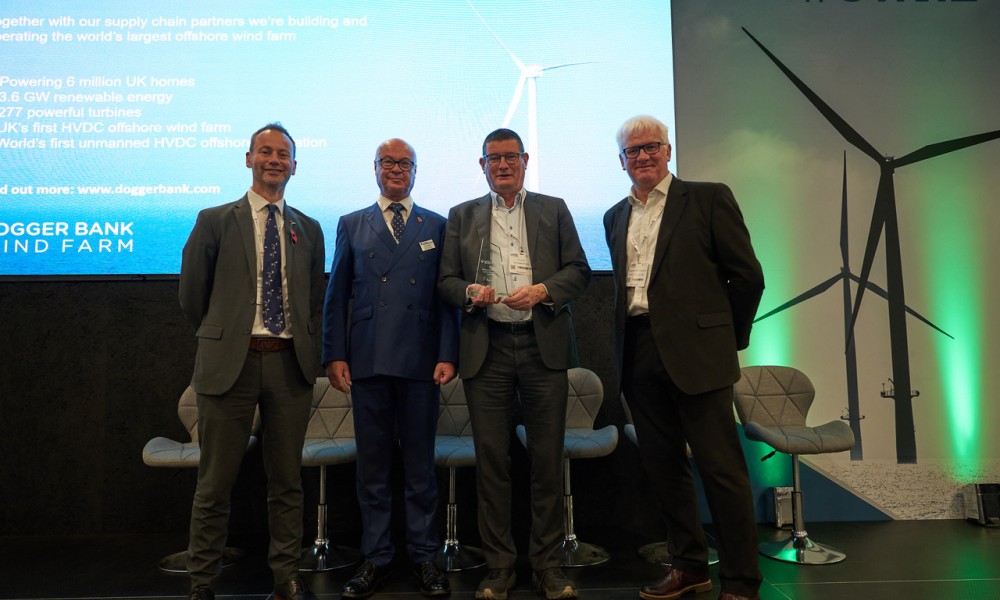 Pulcea announced as winner of Offshore Wind Spin-in competition
A company which is developing groundbreaking technology for the offshore wind sector has received a major growth boost, after winning a competition held by economic regeneration company Advance Northumberland.
Stirling-headquartered Pulcea, which is working with offshore wind operators to protect marine mammals and fish in and around offshore wind farms, won the first prize of £10,000 in the Offshore Wind Spin-in competition.
The winning company was announced at a presentation on Tuesday 8th November at the opening day of Offshore Wind North East (OWNE) at The Beacon Of Light, Sunderland. Delivered by energy sector network NOF, OWNE explores themes and opportunities in the offshore wind sector and is attended by hundreds of exhibitors and delegates from the renewable energy industry.
Launched in September 2022, the Offshore Wind Spin-in competition was created to help businesses establish operational bases in the North of Tyne area, in order for them to develop in North East England's fast-growing offshore wind cluster. Businesses with strong IP, who provided technology that could disrupt or add value to the offshore wind sector, were encouraged to apply. As a finalist in the competition, which was funded by the North of Tyne Inward Investment Capacity Fund, Pulcea has already benefited from a fully funded support package.
Delivered over several months, this support has helped Pulcea gain a more comprehensive understanding of the offshore wind sector landscape in North East England, make connections with the local industry ecosystem, and attend offshore wind events. Advance Northumberland also introduced Pulcea to specialist business support organisation Innovation SuperNetwork, which delivered seven tailored workshops for Pulcea.
The first prize of £10,000 will help Pulcea further accelerate its growth journey in the North of Tyne Combined Authority area.
Pulcea specialises in marine physics and has roots in the salmon farming sector in Scotland and Norway. It has specialist knowledge of North Sea waters and the marine life off the shores off North East England.
The company has expertise in improving marine ectoparasite treatments of farmed salmon in open net cages, through acoustic emissions. Pulcea's research into safeguarding European Protected Species (EPS) while deploying acoustic energy in salmon cages led to the discovery of an effective method of noise mitigation. Applied to the offshore wind industry, this could help to protect marine life from the effects of construction noise. In addition, this technology could also enable developments currently on hold due to EPS licence restrictions to proceed and reduce field development time.
Pulcea is now focused on developing its innovative solution to reduce noise pollution from piling operations at depths of up to 100m.
The competition's runner-up was Istanbul-based Kavaken, which uses artificial intelligence to generate more value from wind turbines. The company uses A3I technology - Artificial, Automated, Augmented Intelligence - to generate insights that result in increased production and efficiency while reducing downtime and risks. As a finalist in the Offshore Wind Spin-in competition, Kavaken has also benefited from specialist sector support from Advance Northumberland.
Ian Armstrong, Managing Director of Pulcea, said: "We have been highly impressed by Advance Northumberland's support this year – the quality of their delivery has been exceptional. The Advance Northumberland team have helped Pulcea become embedded into the North of Tyne region, opened the door to new connections in the offshore wind industry and given us a clear understanding of the sector in this region.
"With assets such as the Port of Blyth and the Offshore Renewable Energy Catapult, and organisations such as NOF and Global Underwater Hub having a strong presence in the region, North of Tyne's offering to the offshore wind sector is hugely exciting."
Michael Black, Director of Economic Growth & Investments at Advance Northumberland, said: "We'd like to congratulate Pulcea for winning the Offshore Wind Spin-in competition, and we commend Ian Armstrong and the team for their innovative approach to solving problems in the offshore wind sector.
"Pulcea is a fine example of the kind of visionary and ambitious companies that are being attracted to North of Tyne's vibrant and rapidly developing offshore renewables industry, and its supporting infrastructure, specialist expertise and facilities.
"We're looking forward to seeing the company achieve further growth."
Alan Lowdon OBE, Offshore Wind Sector Specialist at Advance Northumberland, said: "When we conceived the Offshore Wind Spin-in Competition, we hoped to attract innovative companies of the quality of winner, Pulcea, and runner-up, Kavaken. It is testament to the pull of the North of Tyne offshore energy innovation ecosystem that we now have two great additions to the club!"
The North of Tyne Inward Investment Capacity Fund, which is funded by The North of Tyne Combined Authority, seeks to bring more jobs to Northumberland, Newcastle and North Tyneside through inward investment.