News and events
A bold remit to improve prosperity, quality of life and increase business activity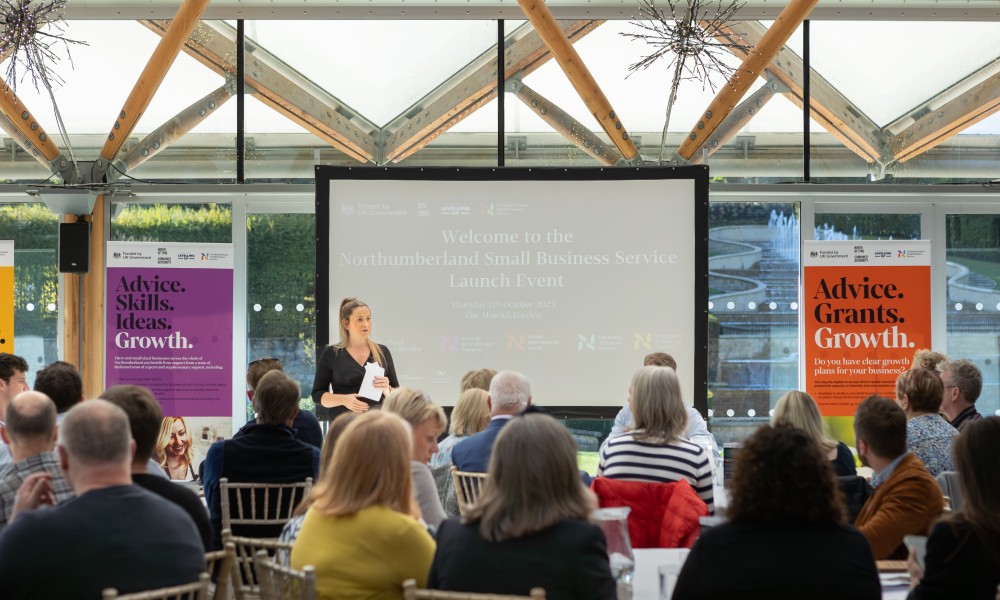 Great turnout to celebrate launch of new Business Support Service
A new support service aimed at supporting Rural Business across Northumberland gathered key partners and over 100 businesses at a launch event held at The Alnwick garden.
The event marked the official launch of the much-anticipated Northumberland Small Business Service (NSBS). The Northumberland Small Business Service, is delivered by Advance Northumberland delivering on behalf of Northumberland County Council. The project is part funded by the North of Tyne Combined Authority Investment Fund and by the UK Government through the UK Shared Prosperity Fund and the Rural England Prosperity Fund with the North of Tyne Combined Authority as the lead authority.
The programme offers a range of support for businesses looking to grow, farm enterprises looking to diversify and individuals looking to start a business across Northumberland but predominantly in the rural areas. The experienced team and its range of experts will work directly with individuals and businesses to help them to start, grow, diversify and sustain their business. There is also access to a £2million rural capital Grant Investment Fund which will support eligible businesses in rural areas with clear growth plans to access direct capital investment to expand productive capacity or diversify into new markets or products.
As part of the service, all businesses can have access to a Rural Business Adviser who will work directly with the business or individual on a 1:2:1 basis to understand the business and help put a plan in place for its growth. There is also an exciting workshop and events programme as well as a range of technical specialists on hand to work directly with a business on a particular challenge, growth desire or to access the Capital Grant Investment Fund,
The rural focused support, particularly the new Farming Advisory Service, delivered by the Northumberland National Park Authority, bridging the gap previous business support offerings didn't fill, has all been well received from businesses in attendance.
Delegates took to social media to praise the event and the support which is available in various degrees to eligible businesses.
"What a fantastic venue, well organised, great people and a wonderful programme for small businesses in rural areas. Congratulations. The branding is spot on."
"Great event, launching some really useful projects."
"Great to be part of this rural programme for small businesses, especially in agriculture and farming for Northumberland."
The morning saw Programme Manager, Lucy Evermore give a detailed insight into the new support service and what it has to offer. Following the event. Lucy said, "I am excited to finally be able to launch the service properly. After some months of planning, its really great to see all of the teams hard work come together and showcase the breadth of support we have on offer. There really is something for everyone, regardless of what stage of business you are at..!"
During the afternoon, delegates were enticed with workshops delivered by industry experts, Kate Cooper-Fay, KnoCu Ventures and Matthew Curtis, M4C Ltd.
Kate who was named as Most Influential CEO 2022 delivered a workshop to delegates about Accessing Finance and the many different channels to funding available to small businesses.
Sought after business consultant, Matthew then delivered a workshop focused on business planning and the importance of having a business plan.
Delegates left the day feeling motivated and enlightened in moving forward with their businesses and what free support they were able to tap into.
The rural focused service meant networking opportunities throughout the day offered businesses from across the region a chance to reconnect and develop business relationships as well as meeting new people and businesses who may have missed out on previous events due to eligibility.
The North of Tyne Combined Authority is a partnership of three local authorities: Newcastle City Council, North Tyneside Council, and Northumberland County Council and the North of Tyne Elected Mayor.
The UK Shared Prosperity Fund is a central pillar of the UK government's Levelling Up agenda and provides £2.6 billion of funding for local investment by March 2025.
The Fund aims to improve pride in place and increase life chances across the UK investing in communities and place, supporting local business, and people and skills. For more information, visit https://www.gov.uk/government/publications/uk-shared-prosperity-fund-prospectus/uk-shared-prosperity-fund-prospectus
The service is excited to also announce that their website will be launching in the coming weeks, in the meantime events can still be found at www.businessnorthumberland.co.uk
If you have any questions about the event or the new Northumberland Small Business Service, please contact the team at business@advancenorthumberland.co.uk