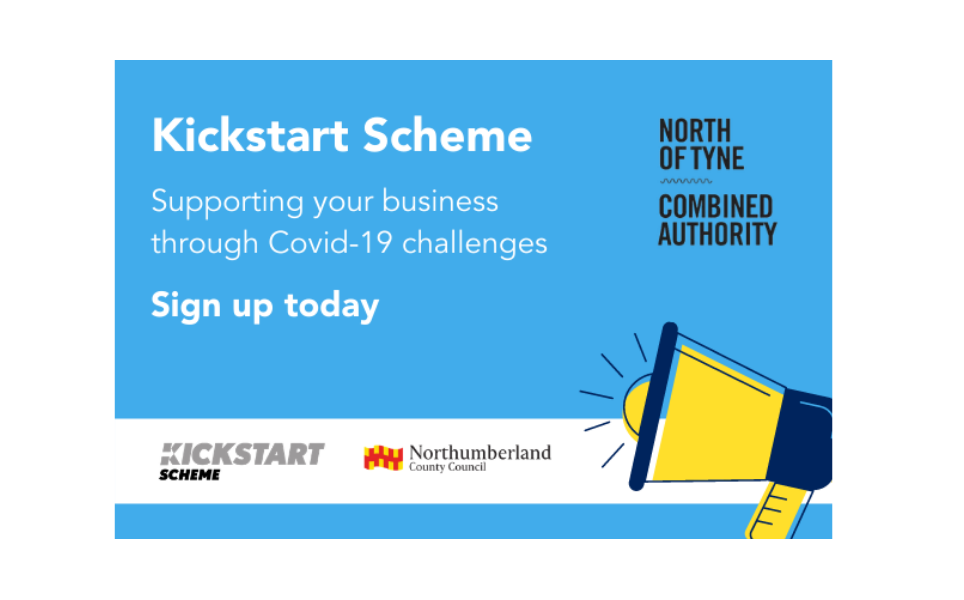 Recruitment opportunity for local businesses
Northumberland businesses are encouraged to take part in a government funded recruitment opportunity known as the Kickstart Scheme.
The North of Tyne Combined Authority (NTCA) is acting as a Gateway to help local employers establish 6-month paid job placements for young people, with support from Northumberland County Council.
The scheme provides funding to employers to create job placements for 16 to 24 year olds on Universal Credit.
Northumberland businesses can register their interest in the scheme through the council's website.
Follow this link to view the council's Kickstart web page and expression of interest form.
The scheme aims to support organisations through Covid-19 challenges, while also providing young people the opportunity to develop work-ready skills within a business sector.
Cllr Guy Renner-Thompson, cabinet member for children and young people at Northumberland County Council, said: "We know that many of our local businesses continue to face several challenges as Covid restrictions remain in place."
"The Kickstart Scheme can support organisations through these demanding times by helping them to recruit additional staff to support their business aims.
"We understand that, due to current national lockdown restrictions, some businesses will be temporarily closed or their operations limited, but I urge those businesses who would benefit from additional support to reach out and register their interest.
"This is a fantastic opportunity that will benefit not only our businesses but our young residents as well."
Cllr Joyce McCarty, North of Tyne Cabinet member for Employability and Inclusion, added: "The North of Tyne Combined Authority understands the difficulties many businesses are facing in the wake of the recent national lockdown and we are dedicated to helping our businesses bounce back.
"As a representative of the Kickstart scheme, we can help businesses receive the funding to create work placements for young people across our patch.
"This is an excellent scheme that aims to help our businesses and young people recover from the impacts of the pandemic and reimagine their futures. I recommend any business interested to get in touch."
Visit the North of Tyne Combined Authority website here for further information about the scheme.
Employers can offer any number of placements for their organisation. Each placement will be fully funded for 25 hours per week, for 6 months.
Employers will receive funding to cover 100% of the National Minimum Wage (or the National Living Wage, depending on the age of the participant), as well as funding to cover National Insurance and automatic enrolment contributions.
Start-date of placements can be spread up until the end of December 2021.