News and events
A bold remit to improve prosperity, quality of life and increase business activity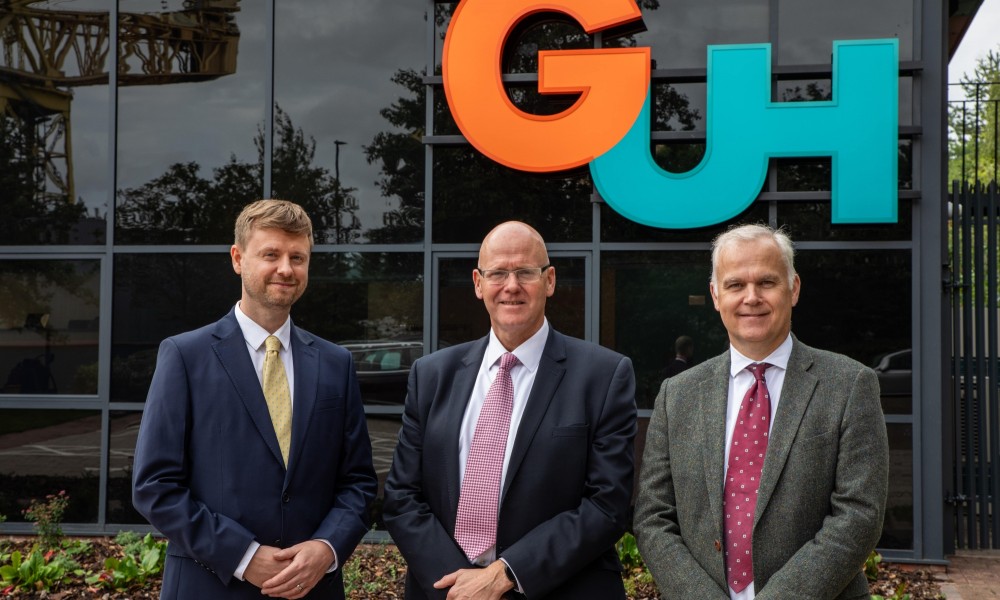 Global Underwater Hub Makes Waves In Region With Northern Office Opening
Global Underwater Hub (GUH), the trade and industry development body representing the UK's growing £8 billion underwater industry, has opened a new north England regional office in Newcastle upon Tyne. The new premises mark the next phase in the organisation's plans to support the future growth of this diverse, world-leading industry and the wider blue economy.
With funding assistance from UK and Scottish governments, the base will serve as a hub for GUH's members across the north of England. Featuring a dedicated event space, the building will bring together companies working across the oil and gas, offshore energy, defence and subsea cable sectors in the region, and further afield, to enable collaboration and facilitate the exchange of ideas and technology across the sectors.
Major investment is planned around the UK and the world to harness the energy of our seas and oceans to generate power, increase connectivity and bolster food security, aiding the energy transition. Through its new northern hub, GUH will provide its regional members with access to market intelligence and business growth support that enable these companies to capitalise on these opportunities and in turn support revenue generation, job creation, exports and inward investment.
The Newcastle office is also expected to welcome overseas trade delegations, helping cultivate global relationships. Over the past year, GUH has hosted groups from Barbados, China, Estonia, France, Latvia and Lithuania to learn about the knowledge, technology and expertise possessed by UK companies working across the underwater supply chain.
Neil Gordon, chief executive at GUH, said: "Opening our Newcastle office is a vital part of GUH's vision for the future of the underwater industry. By establishing our presence here, we are strategically located to champion and connect underwater businesses across the UK to ensure that the country remains at the forefront of the industry and creates a robust and transparent supply chain that leads the world and others can learn from.
"It's an exciting milestone for GUH and we're looking forward to meeting new faces from the underwater sector to support them along their growth trajectory."
The opening event saw industry and regional leaders come together to find out more about GUH and how it will benefit the region. There was a technology demonstration from SMD featuring its latest development, SMD Horizon, which enables remote controlling of autonomous vehicles from any device with an internet connection.
SMD has been a member of the Global Underwater Hub and its predecessor for 18 years. Mike Jones, chair at SMD, said: "This is a huge achievement for the region. The North has a long track record of spearheading developments within underwater technology and this hub will help accelerate this even further.
"There are a lot of challenges within the underwater industry as we transition but by coming together via GUH we will have a stronger industry voice and better access to intelligence so we can remain ahead of the game.
"We're looking forward to using the hub's facilities, connecting with like-minded businesses, and working on groundbreaking projects to help our industry continue to thrive in the north."
"There are many challenges within the underwater sectors but by coming together through the GUH and developing pioneering solutions, we can remain ahead of the game.
"We're looking forward to using the hub's facilities, connecting with like-minded businesses, and working on groundbreaking projects to continue our development and growth."
The presence of such a prominent trade and development body is set to become a focus for STEM activities where it will work with regional partners to stimulate local community interest in science, technology, engineering, and mathematics.
Councillor Nick Kemp, Leader of Newcastle City Council, said: "The north east is fast becoming an epicentre of sustainable, clean technology and renewable energy. With our ports - both in Blyth and the Tyne - the hub is another reminder of how important the north east is when it comes to leading the way in developing innovative underwater technology and cutting-edge solutions for modern businesses."
Established in 2021 and built upon its predecessor Subsea UK's near two-decade legacy, GUH represents the largest, cross-sector underwater community in the world providing commercially driven market intelligence to inform decision-making and give clear routes to market opportunities. By offering infrastructure for collaboration, knowledge transfer and new insight, GUH helps its members adapt to, benefit from, and contribute to the energy industry in transition.
Ricci Boston, who has recently taken on the role of regional manager for the north of England and is based at GUH's Newcastle office, said: "The Newcastle office isn't just a new location; it's a statement of our commitment to improving opportunities for the underwater industry, and all those businesses and organisations connected to it, in the north. From Merseyside, The Humber and up to the Scottish Borders, I'm looking forward to helping our members and partners drive innovation, foster connections, and open doors to new opportunities. It's a great time to become a part of the GUH journey."
Michael Black, Director of Economic Growth and Investments, Advance Northumberland, said: "Advance Northumberland is committed to driving economic growth and developing our already vibrant offshore, renewables and subsea sector - the establishment of GUH's office in Newcastle aligns perfectly with our vision to encourage more businesses to invest in Northumberland and the wider North East.
"Major projects such as JDR's new subsea cable manufacturing facility currently in development in Cambois, RWE choosing Port of Blyth as their construction base for Sofia Wind Farm and Energy Central Learning Hub a new skills and training centre focused on clean energy and STEM subjects currently under construction in Blyth demonstrates that Northumberland is brimming with investment. It's easy to see why GUH has chosen the North East as a location to call home.
"We're excited about the ripple effects this will create in fostering innovation and attracting further investments. Collaborations like these strengthen our collective efforts, and we're keen to support the growth and success of the underwater industry in the North East."